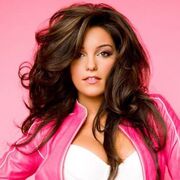 Aleesia Stamkos is an up and coming Canadian singer and dancer of Macedonian descent.
Before Aleesia could even walk or talk, her family knew its extroverted youngest member was destined to be an entertainer.
Aleesia turned to such top-notch songwriters and producers as Bangladesh (Rihanna, Ludacris, Lil Wayne), The Stereotypes (Justin Bieber, Far East Movement), Rob Wells (Justin Bieber, Selena Gomez), The Dream Machine (Britney Spears), VicPark (Massari, Neverest), and Kuya Productions (Nelly, Akon) to ready songs like "Strut," "Life of the Party," and "Not That Girl."
Aleesia debuted in the 35th edition of the Mysterious Song Contest Wikia
The Songs represented in Mysterious Song Contest.
| Edition | Country | Song | Place | Points | Semi | Points |
| --- | --- | --- | --- | --- | --- | --- |
| #35 | North Macedonia | Echoes | XX | XX | 20 | 060 |
Eligible to participate for